By: Rachel T, rachel.t@annarbortees.com
over 3 years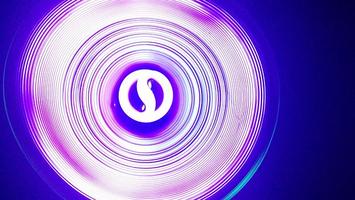 The secret to the screen printer's tan
As we discussed in our previous post, Let Them Screen Prints!: Production for the Masses, many technological advances eased the difficulties of screen printing. It emerged from the Industrial Revolution as a streamlined, mass production process. However, there were still many advances to come. Around 1911 to 1915, Roy Beck, Charles Peter, and Edward Owens began experimenting with the first photographic screens. Photographic screens use a UV sensitive photo emulsion (glue-like goo). Coating the screen was usually done by filling up a trough and dragging it across the surface. When hardened, the emulsion produced a uniform coating that was water soluble.
An artist's image would be created as a stencil or on a transparent film. The artist then placed the image between a light source and the hardened screen. The water soluble emulsion became water resistant when light shined over its hardened state for a time. Light passing through everywhere not blocked by the artist's design would make the desired areas water resistant.
Say goodbye to stencil ties!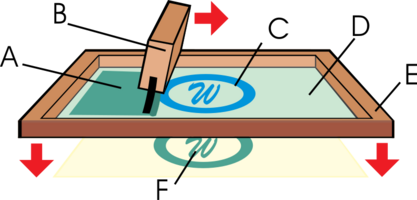 A. Ink B. Squeegee C. Image D. Silk Screen E. Screen Frame F. Printed Image - Image by Harry Wad
The artist could then wash out the still water soluble emulsion. This left the water resistant emulsion in the shape of the artist's design. As a result, "ties" were no longer needed and worrying about image and font size became much less of a concern. Photographic screens allowed for the printed design to exactly match that of the artist's original. Printers still use photosensitive screens to capture their designs down to the smallest details.
Now, what to print?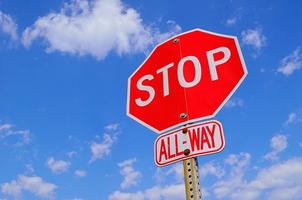 Stop and head directly to the next post!
As time progressed, screen printing found one of its first large boons in industry production with the need for street signs. As more cars and roads cropped up all over the world, everyone needed more signs to aid navigation. Screen printing was favored because it could reproduce an exact image in large quantities. As industrial screen printing of signs, linen, and wallpaper grew, an artistic interest in screen printing took hold. Read on to our next blog, Serigraphy: Screen Printing Gets Classy, to learn more about the uses of screen printing in art and industry.
Or is that enough lesson time? Ready for your own custom shirts?
I'm Ready. Let's Do It!
References
Book - Mental Floss History of the World
---
Tags: #screen printing, #learn about printing, #history