By: Rachel T, rachel.t@annarbortees.com
over 2 years
Sometimes they have numbers for sizes. They don't always come in the same colors as adult shirts. Most of the time they cost more than the adult equivalent. What gives?
These are all great questions, curious blog reader! Pretty much everyone who has placed an order for youth shirts has wondered these exact same things.
First things first: youth t-shirt sizing
Youth shirts are sized a little bit differently than adult shirts. Some brands use the standard sizing that you think of with adult tees - extra small, small, medium, large, and extra large. However, some brands use a numbering system for youth tees.

There are also sizing options for infants and toddlers. Since younger kiddos tend to be more variable in their sizes, it's usually best to go by their height and weight when selecting a size rather than their age. Infant and toddler sizing varies by brand, but here are a few sample size charts for some garments: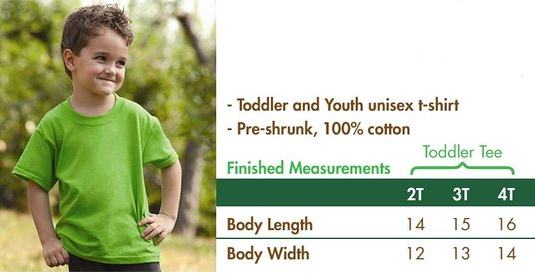 Smaller shirts = less room for printing on the shirt
Since youth shirts are smaller than adult shirts, there is a smaller area available to print on. If you're placing an order with the same art on both youth and adult tees, you have a couple of different options to deal with this size difference in your design.
One option is to keep the same size art on all shirts. Our art team would make the design as large as possible on the youth shirt, and then use that exact same size art on the adult shirts.
Sometimes, keeping the same size art on all garments isn't the best option. Think of how silly it would look if you used the tiny art for a newborn onesie on an adult XL shirt! In this case, we would resize the art to be smaller on the youth tees, and larger on the adult tees.
Colors and cost and adult correlates, oh my!
There are a few more things to keep in mind when placing an order for youth tees. Let's say you found the absolute perfect color t-shirt for your adult t-shirt order. How exciting! Then, you decide you want to add a few youth sizes for the youngsters in your group. Sometimes, the youth equivalent will not stock all the colors that the adult style does. This is just because there is less demand for youth tees. If you find yourself in this situation, do not fear! Our talented sales team will help you find a youth shirt that's as close as possible to the color you selected for the adult tees.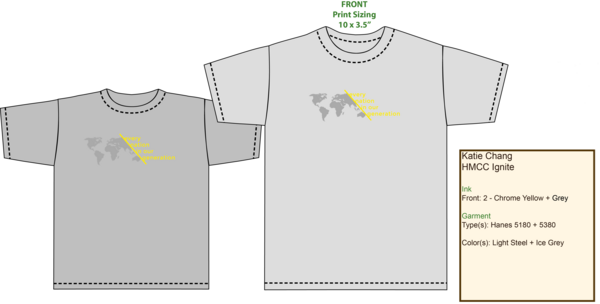 Here is an example of an adult and youth shirt that does not come in the exact same color. We had to use very similar but slightly different garment colors.
Another common question about youth tees is, "Youth shirts are smaller. They contain less fabric. So why do they cost a little bit more than the adult tees I'm ordering?" Just like the reason suppliers do not stock a ton of youth t-shirt colors, the demand for youth shirts is not as high. This is reflected in the higher price. It's only a small difference in price though - less than a dollar in most cases.
Still curious about custom apparel for your group?
Get in contact with someone from the Ann Arbor Tees team here, or check out our blog on some of the most commonly ordered garments for school groups!
Request Pricing
---
Tags: #youth