By: Jerry, jerry@annarbortees.com
almost 9 years
Last week, we were featured in an article about the Michigan Film Incentive. It got us thinking about all of the movies we've printed for over the last year and a half, and we have decided to chronicle our Hollywood escapades in a new column titled "We're Kind of a Big Deal." The beginning seems like a decent place to start:
In the spring of 2009, we received a call from our buddy Brian. He was working as a locations scout for the movie Stone, which was filming in Dexter, MI at the time and wanted to know if we were interested in printing shirts for the cast and crew. We jumped at the opportunity, and a week later found ourselves delivering a box of shirts at 3am to a set outside of an abandoned farmhouse in the Ann Arbor countryside, where Robert DeNiro himself was standing on a lonely country road filming a scene that involved a lot of expletives. It was a surreal moment, and quite a bit of fun. Not as fun as it would have been if we'd gotten to be there two nights later when they lit the house on fire, but beggars can't be choosers.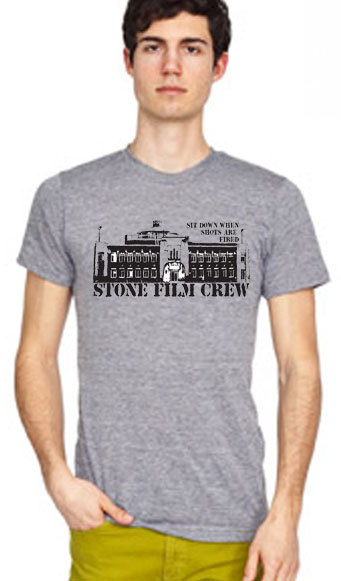 The theme of the shirt was Jackson prison, as the movie centers around DeNiro (a parole officer) and Edward Norton (an inmate). The set sprung for some premium American Apparel vintage blend shirts, and we like to think that Bobby D wears his to bed.
Request Pricing
---
Tags: #movies