By: Jerry, jerry@annarbortees.com
about 9 years
As a t-shirt company, we get a lot of requests for favors by non-profits. We help whenever possible – and want to give a quick shout out to two of our favorites that we've donated to this month.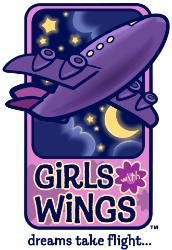 Girls With Wings
Girls with Wings promotes the awesome idea of getting little girls to realize how much cooler being a pilot is than being a princess. While the Ann Arbor T-shirt Company is a male-owned company, we whole-heartedly support the advancement of cool women and the appreciation thereof (Jerry is dating a rock-climbing lawyer).
Our good friend and lady-pilot Pam Palmieri brought this group to our attention, and will be flying in the Air Race Classic next week to raise money for them. We are proud to have opened our wallets, and encourage you to do the same!
The Journey of Hope
The Journey of Hope is a two month, 4,000 mile bicycle ride across the continental U.S. made by a team of Pi Kappa Phi Fraternity brothers from around the nation. It raises over $500,000 for people with disabilities, and the riders stop in a new town every night to spend time working and playing with the grant recipients.
Ann Arbor T-shirt Company co-owner Jerry Kozak rode the Journey from San Francisco to Washington D.C. in 2005, and we are proud to donate his bicycle + a cash gift to the University of Michigan's Sean Hazaray for this year's trek.
Request Pricing
---
Tags: #community, #local, #custom, #small business, #charity