By: Nate, nate@annarbortees.com
about 3 years
While Ann Arbor T-shirt Company is not a union shop (though we do sell union-made shirts and Made in USA shirts!), taking care of our employees is a priority! In addition to ensuring that Ann Arbor Tees is a fun, productive, and food-filled place to work, we further make sure that our employees' voices are heard and their ideas make an impact.
Some of the perks of being employed at Ann Arbor T-shirt Company include:
Company-Provided Lunch Every Day
You never go hungry at Ann Arbor Tees! Lunch is catered from local restaurants every day. Some of our favorites include Barry's Bagels, Lucky's Kitchen, Moe's Southwest Grill, the Arena Sports Bar and Grill, Jamaican Jerk Pit, and Hungry Howies to name a few.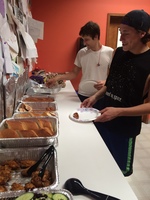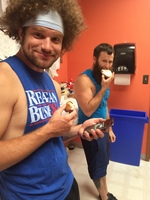 Popsicles on Hot Days
It gets hot in the warehouse on sunny, summer days. Our solution? An endless supply of popsicles. And a fancy new ice machine!
Five-Hour Energy Drinks, Coffee, and Tea
Printing t-shirts can be exhausting. That's why we have a vast amount of caffeine to feed our employees' thirst. Endless coffee, tea, and five-hour energy drinks await employees in the kitchen.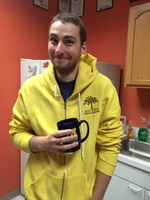 Free Vitamins
With the amount of germs that inevitably enter the workplace, we like to make sure everyone stays as healthy as possible. We offer free vitamins and Emergen-C for employees any time they would like. Taking vitamins is even on the sales team's daily meeting agenda!
401k Program
Employees who stay with Ann Arbor Tees for at least a year are eligible to contribute to our 401k plan, with generous company matching.
Company Sports Teams
Ann Arbor T-shirt Company employees like to stay active outside of the office. In addition to our company kickball team, the Kenny Katnadoes (pictured below), employees also enjoy being on, or cheering on, our company soccer team.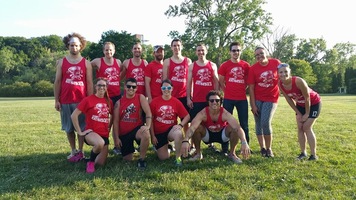 Fun Company Parties
Ann Arbor T-shirt Company knows how to throw a party! Some of our annual parties include a Summer Kick-off BBQ, Halloween Party, and Holiday Party. Event t-shirts, beer, and inflatables included!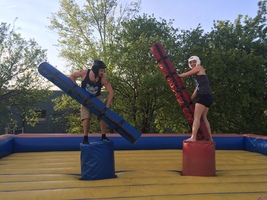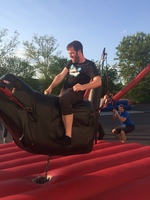 Flexible Scheduling
We understand that our employees have commitments outside of work. Some have classes and schoolwork, some have sports, some have family commitments. If they're the right person for the position, we'll work around their schedule.
Stand-Up Desks
The physical health of our employees is important, and sitting at a desk all day is bad for health, energy, and mood. Using a stand-up desk has been linked to boosted productivity, increased energy levels, and decreased back pain and health risk. Most of our stand-up desks actually raise and lower, so employees do have the option to sit when they need a rest.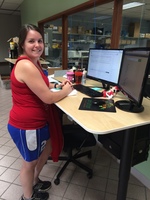 Discounts on Custom and Retail Apparel, and Free Ann Arbor Tees Apparel
We offer our employees stellar discounts on custom designed apparel as well as on all of our retail designs. And though there's no dress code at Ann Arbor Tees, on any given day, an overflowing handful of employees will be proudly sporting the t-shirt tree logo on their shirt.
Management Office Hours
Each week, someone from management holds "office hours" in the break room, a three hour period that anyone can stop by and visit (on the clock!) and give suggestions, talk about problems, and chat about anything that comes to mind.
And there are usually snacks!
Suggestion Box
For employees wishing to remain anonymous with their suggestions, we have a suggestion box that they may contribute to anonymously at any time. These suggestions are read at a monthly meeting, and if feasible, steps are taken to fulfill the suggestion.
Employee of the Month & Caught Being Good Awards
We do hold our employees to a high standard, and we feel that those who go above and beyond should be rewarded! Each month, a "Minion of the Month" is chosen and awarded with gift cards, a reserved parking spot, caricature of themselves, and a free t-shirt.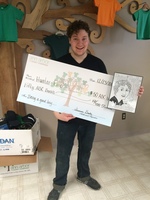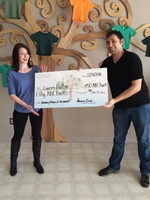 Think you would like to work at the Ann Arbor T-shirt Company? Take a look at our hiring page or fill out the attached application!
---
Tags: #employment