By: Rachel T, rachel.t@annarbortees.com
over 2 years
So you have a crazy t-shirt idea - is it possible?
Shoshana Eisenberg was scrolling through Facebook one Monday evening. She clicked on the Facebook event for Women's March Ann Arbor. She saw a post that read, "anyone know where we can get the t-shirts/hoodies with the march logo on them?" Since she was planning on attending the march, she decided to take charge of the project.
She was not quite sure of most of the details. She didn't know what she wanted, how many shirts to get, and if it was even possible to get the order by the following weekend. Shoshana decided to give Ann Arbor Tees a call the following morning to see if we could help with her project.
Working our magic!
Andrea, one of our sales reps, spoke to Shoshana about her t-shirt idea. Such rapid turnaround time - less than 4 days - is no easy feat. But seeing how important this was to Shoshana, Andrea was able to pull a few strings and make it work. Ann Arbor Tees also agreed to donate part of the proceeds to Planned Parenthood, an organization Shoshana wanted to support.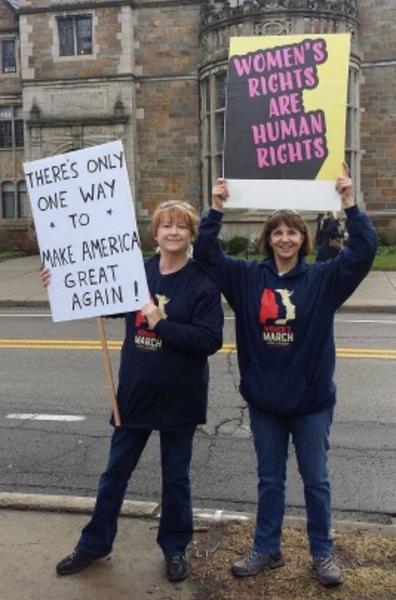 Marchers proudly sporting clever signs and Ann Arbor Tees apparel!
There was one more issue that came up, though. What about marchers who hadn't logged onto their Facebook that day? They wouldn't have seen there was a shirt order going on. What if they wanted to place an order later or after the march?
We assured Shoshana that even if everyone couldn't get orders placed in time for the march, we could open an online order after the event. That way, people who saw Shoshana and friends' shirts at the march could order apparel of their own! She would not have to know every person ordering a shirt with the online system. Everyone pays for their own order and enters their shipping information. For more information on online group ordering, check out our blog post here.
We had a blast working with Shoshana!
Donating proceeds from the Women's March order to Planned Parenthood. From left to right: Amanda from Planned Parenthood, Ann Arbor Tees Sales Rep Stephanie Eller, Shoshana Eisenburg, and Ann Arbor Tees Sales Rep Andrea Armbruster

"Andrea was so helpful with the amount of time she spent with me. The folks at The Ann Arbor T-Shirt Company not only created an online store so that dozens more could be decked out in the design of Nicole LaRue but they also donated proceeds to Planned Parenthood - almost $2,500 has been raised so far. Unity starts at a local level and The Ann Arbor T-Shirt Company gave so much of us a bigger voice. It's amazing that the locally owned Ann Arbor T-Shirt Company made such an impact on my life and the lives of hundreds, maybe thousands, of others."
Shoshana Eisenberg, Ann Arbor Tees Sales Representative
You can read Shoshana's full testimonial and story here. Contact one of our sales reps by clicking the "Request Pricing" button below to get your own custom apparel!
Request Pricing
---
Tags: