By: Jerry, jerry@annarbortees.com
about 9 years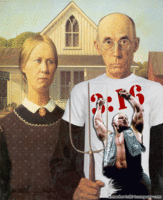 Did you know that Iowa farmer Jeremiah Hewitt adamantly refused to be depicted without his Stone Cold Steve Austin t-shirt at his sitting for painter Grant Wood's iconic AMERICAN GOTHIC?
After fifty three minutes of tense negotiations, Hewitt finally relented after Woods promised to let him hold a pitchfork.
This moment in t-shirt history brought to you by the Ann Arbor Screen Printing Society of Screen Printing Screen Printers.
Request Pricing
---
Tags: #funny