By: Rachel T, rachel.t@annarbortees.com
over 2 years
Everyone wants something different. 3 people want Hawaiian pizza, 4 want ham and green pepper, 2 want BBQ chicken, and 4 want plain cheese. How can you possibly decide what toppings to order? Well, you order more than one kind of pizza, of course! A mixture of flavors so everyone is happy, and voila, problem solved.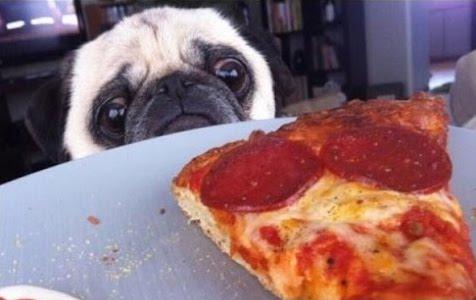 This pug is sad because he wanted ham on his pizza, not pepperoni! This proves our point - how can you please everyone?
The same situation is true for apparel. How can you please everyone when a few people want tees, some want sweatshirts, and some want embroidered polos? Like the all-too-familiar pizza predicament, the solution to apparel ordering can be just as simple!
Just ask Megan Sullivan from Belmont University.
Megan is a second year occupational therapy doctoral student (OTD/S) at Belmont. She's on the board of the program's Student OT Association (BSOTA). She was in charge of ordering apparel for the OT program. The OT program needed professional apparel to wear at clinical rotations as well as casual apparel to wear around campus. She was not quite sure where to begin. Classic unisex tees for the t-shirt lovers? Embroidered polos for looking professional at rotations? Crewneck sweatshirts for chilly classrooms on campus?
Rich, our salesperson working with Megan on her order, thought to himself, "This reminds me of something. Ah yes, the last time we ordered pizza for the office!" There are many people in the OT program, and each person would want multiple garments. It would be very complicated to collect money from everyone and get everyone's sizes. Being the smart cookie that he is, Rich realized that we have the perfect solution for Megan - our online group ordering system. This made Megan's t-shirt ordering experience painless and straightforward.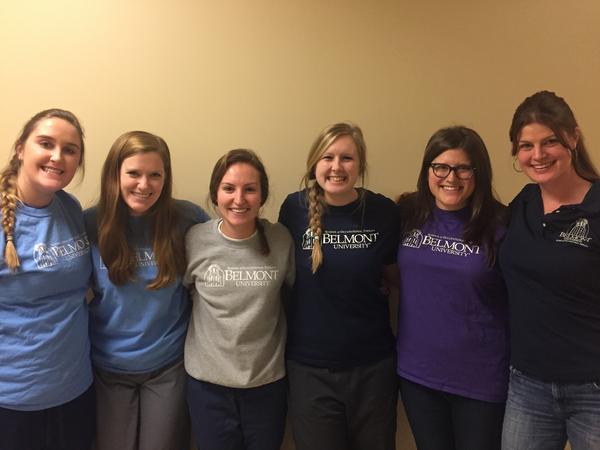 Some of Belmont's occupational therapy doctoral students wearing their Ann Arbor Tees apparel
Megan's Testimonial
"We custom order our apparel for the students who want to represent the program and wear professional looking shirts on their clinical rotations. Ann Arbor T-Shirt Company made ordering custom apparel for students very easy with their online store. Rich's email replies, as well as the company's service, were very prompt. The customer service was exceptional with the team constantly updating me with order details and answering all the questions I had. Once the order was completed, the apparel arrived quickly and looked great! We will definitely be using Ann Arbor T-Shirt Company again."
Megan Sullivan, Therapy Doctoral Student
Thanks for working with us, Megan!
Jealous of Belmont's sweet swag? If you'd like apparel for your student group or program, let us know here!
Request Pricing
---
Tags: