By: Nate, nate@annarbortees.com
almost 3 years
Remember what a hassle it was when you ordered shirts for your office staff/baseball team/fraternity/insert your organization here? First you had to get everyone's sizes and choice of shirt style, which took forever, especially when that one guy couldn't make up his mind whether he wanted a long sleeve or short sleeve tee. Then the worst part - collecting the money! Several members of your organization conveniently "forgot" to bring you their money by the deadline, so you had to push back the order until they finally "remembered". And finally, the shirts arrived, but you spent another hour of your precious time handing them out. Who knew ordering t-shirts could be so exhausting?
Well, Ann Arbor T-shirt Company has a solution for you - and it's called Online Group Ordering.
All the hassle of being the contact person ordering for a large group is eliminated! The sizing/style collection? Gone! The money collection? Gone! Handing out the finished product? Gone!
With group ordering technology, you - the contact person - tell us what you would like available to your group. You send us the design, the shirt styles you'd like to make available (our sales team will work with you in making these style decisions and talk pricing!), the deadline you'd like the garments by, and you're pretty much done on your end! Our sales team will build a group order store for your organization via OrderMyGear, and send you the link to the online store to distribute to your group.
Individuals ordering in your group then open the online store and choose among the offerings. We'll make a mock-up of the garment(s) with the design you send us.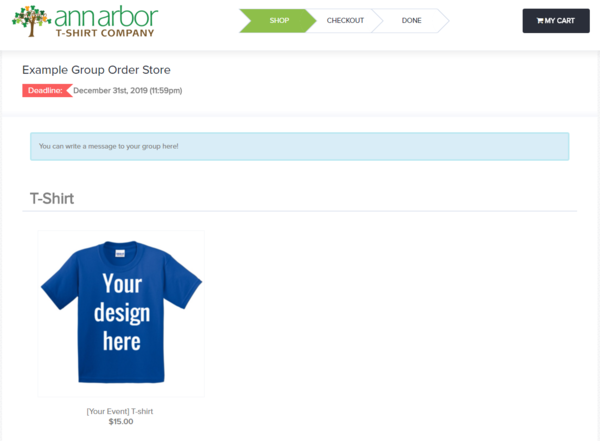 Individuals will click on the chosen garment to see a front and a back view. They can then select the quantity they would like to order (we can limit this, if you're just looking for one per person), and what size they would like to order. We can also add in other options here, such as color choice, and/or the option to add a name to the back of their shirt.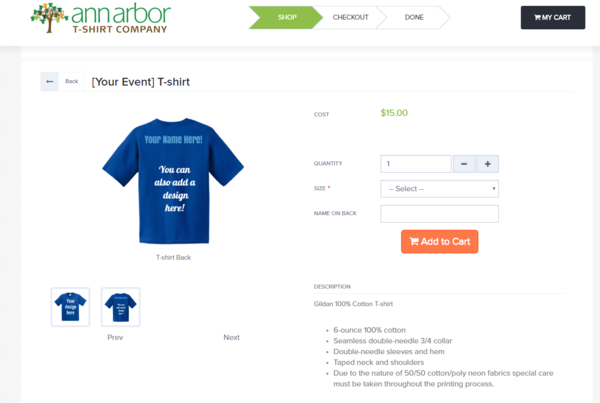 Once all garments are selected, the individual goes to Checkout and reviews their order.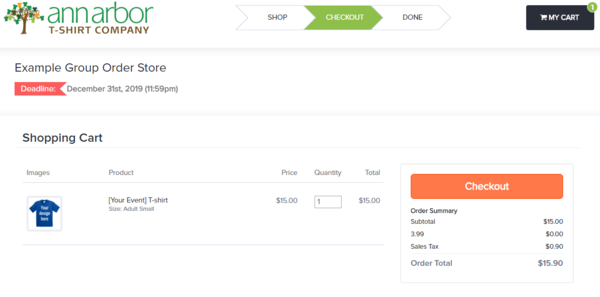 When they're satisfied with their cart, they can then click the big orange Checkout button to proceed with their order. Here is where some administrative options for you come in!
If your organization is paying for the order all together and money doesn't need to be collected from individuals, then we don't need to collect payment information here. However, if individuals are paying for their own shirts or other garments, we can absolutely have them pay for them individually upon checkout, eliminating the hassle of you collecting money from everyone.
We also have the option of shipping orders to individuals if you prefer to not have to hand them out, and we would collect customer address information here for that. Or, if you prefer to pick them all up for your group, we can certainly make that happen as well.
Once all necessary information is collected, the individual reviews their information and submits. Easy as the click of a button! And you personally didn't have to do anything but make the initial phone call to Ann Arbor T-shirt Company to set it up.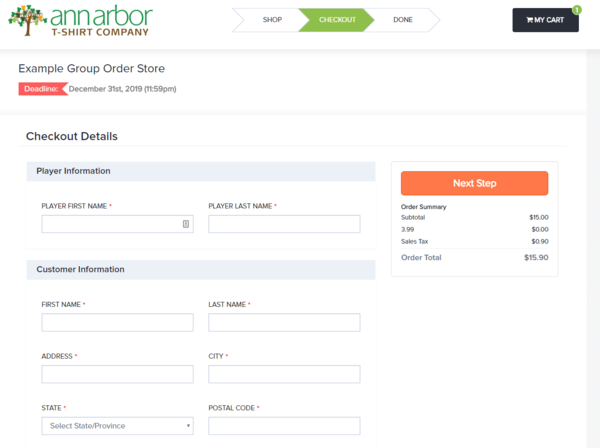 Individuals of your organization will have until the posted deadline to place the order. If your group order is going to be ongoing (for an office, for example, you might want the garments to always be available, and people can order whenever they want to), we can certainly accommodate that and leave the deadline open-ended.
Finally, we also have the option to make the group order a fundraiser if you're looking to make commission on the order as well. In this case, garment prices may be raised slightly, but we can indicate on our end that you get a certain percentage of each garment sold.
Too good to be true? Absolutely not! Find out for yourself by contacting our sales team at sales@annarbortees.com or by clicking the "Request Pricing" button below to get started on your group order today!
Request Pricing
---
Tags: #how to order a shirt, #group ordering, #custom apparel