By: Jerry, jerry@annarbortees.com
over 9 years
One of the most common questions we get from prospective client is "do you guys do art?" This question is usually asked in hope and fear – hope that we'll say "yes we do!" and fear that we are going to charge an arm and a leg for it and end up delivering some crummy clip art we hobbled together. Well fear not! Not only are we happy to produce art for you, we rarely charge for it (and will always get your permission before doing so) and are just as concerned about how it looks as you are. We are proud of our work, and we don't like attaching our names to bad looking clothes!
Here is a quick example of a client who had an idea but needed help making it a reality
In January of 2010, Gillian approached us about producing 30 shirts for her and her pal Erin's Birthday Bar Crawl
The theme was "26 Candles," and being an 80's party, the shirts naturally had to have some neon flair. Gill had a general idea of what she wanted, but asked if we could help translate it into a radical print
We took an afternoon to do some research, and after browsing a couple dozen 80s movie covers, magazine ads, and other pop culture relics, had the following recommendations
The inverted face relief in neon pink on a black background – this seemed to be a required look for 80s pop tour posters
We found the font used for the move "16 Candles," which seemed to be an obvious choice

Once the art was approved, we agreed on a price, and had the shirts printed and in her hands within the week!
Gill said of her experience
"I was very impressed with the Ann Arbor T-Shirt Company's service. I needed 30 t-shirts for a bar crawl and they were able to take my ideas and run with them. They were able to screen our photos onto the shirt and create a unique design. I needed to get the shirts in only a couple of days, and they rushed to get it all done. The price was unbeatable. I will recommend them to friends and family!"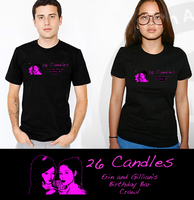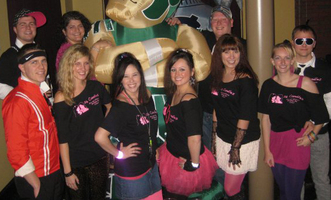 Thank you, Gill! It was a pleasure working with you, and thanks for the pictures – it looks like you guys had a lot of fun. We sincerely appreciate your kind feedback and permission to pass it along!
Request Pricing
---
Tags: #barcrawl, #client, #custom