By: Jerry, jerry@annarbortees.com
over 9 years
We were contacted by our friend at the Kelley School of Business at IU recently to produce a shirt for their section of the school's 1st year class.
They had two issues
They knew they wanted their shirt to mirror the Manchester United jersey, but didn't have the art
No one wanted to be responsible for collecting the money for the whole group / get stuck fronting it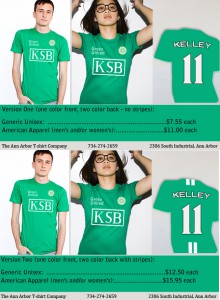 After a few emails, the art was squared away, and we worked out a deal wherein we would post the design on a private area of our website, allowing each student to visit the site and purchase via credit card. We then collected all of the orders, ran the order, and shipped it out to Bloomington – all for $16.00 each on American Apparel w/ four screens (the stripes on the backs of each shirt had to be added separate, increasing the cost).
The Kelley Krew was very happy with their order, and sent us this picture!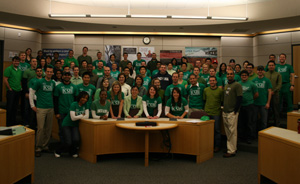 Request Pricing
---
Tags: #university