By: Nate, nate@annarbortees.com
about 3 years
Today, we get away from our usual topics that talk about how you are going to decorate your shirt (The Decoration Decision), how the shirt is going to fit you (Fit To Be Worn), and what you are going to wear (What's in a T-shirt?). We will tackle something more essential to a t-shirt order than anything else. This is the very "fabric" of the t-shirt order - You, your group, and how you place your order.
With you in mind, we have partnered with other companies to bring you the easiest, fastest, most efficient ways to order custom apparel depending on what you need.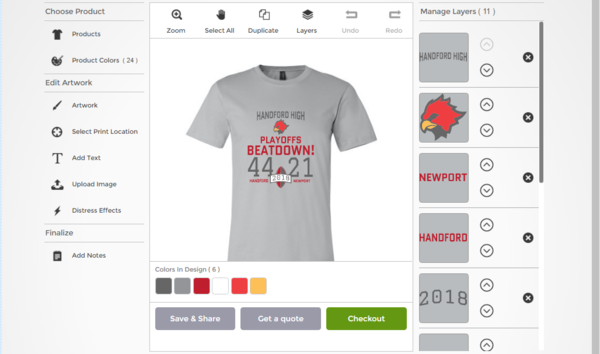 We have been helping people show off their identities with this online designer for five years now. Here are the key benefits:
Variety of Garments

We offer crew neck t-shirts, v-necks, ladies shirts, tanks, youth shirts, toddler shirts, onesies, sweatshirts, hoodies, and tote bags.

Fast turnaround

Orders with 11 pieces and under will be ready for pickup or shipping in three days. Twelve pieces and up will be ready in a week.

Low Prices

Best pricing around for under 50 pieces with custom printing.

Pick up or get shipped to your home

Order your shirts without ever leaving your home. Place your order online and we will ship your new apparel right to your door.
Want to pick up in person? No problem. This will save you on shipping, and you get to say "Hi!"
A few things to keep in mind
Our Design Studio is built for speed and price. Therefore, the options are limited. If you really want a garment that we don't offer on the Design Studio, give us a call, chat us on our website, or email our sales team, and we'll help you find a the garment that is right for you. Our chat and phone lines are standing by 9:00 am-6:00 pm, M-F. If we don't answer, we will get back to you next business day.
We don't offer embroidery or applique on the design studio at this time. Embroidery tends to have more set up cost due to the machine requirements to stitch custom designs. If we offered one piece orders on the Design Studio, we would need to charge around $100 for just one piece.
If you order 11 pieces and under your shirts will be digitally printed. If you order 12 or more, your shirts will probably be screen printed. Both are high quality, durable prints that will last for years if washed properly. The two prints do look and feel a little different because they come from different processes.
---
Interested in buying a shirt?
Request Pricing
---
Tags: #how to order a shirt, #custom apparel