By: Rachel T, rachel.t@annarbortees.com
over 2 years
You may have heard about one of 242's campuses in Ann Arbor, Brighton, or Lansing. Their community is built around the goal of helping people take the next steps with God.
242 Church also values high-quality t-shirts. They have t-shirt needs ranging from marketing campaigns to giveaways for student members of the church. That's where Ann Arbor Tees comes in!
What kind of tees does 242 need?
242 is all about the individual. They wanted a shirt everyone would be happy to wear - not a shirt they feel compelled to wear. They want something a step up from your average gym class t-shirt. So instead of a classic unisex tee, we recommended a fashion fit shirt for their order.
Classic unisex cotton t-shirts are boxy and loose fitting. They're the most economical tees and what you think of when you think of a typical t-shirt for an event.
Fashion fit tees (think brands like American Apparel or Bella+Canvas) are tapered below the chest to fit the body for a more athletic look. They're a popular choice for a more fashionable look without a big price hike.
242 also wanted to make sure that the design going on their shirts is attractive, eye-catching, and just plain feels good to wear! Luckily, 242 has their own graphic designer, so they didn't need too much help from our art team. They sent us their logo in a vector file and we mocked it up for them to make sure it looked exactly like they had envisioned. Even if you do not have your own designer, we can help bring your vision to life with our staff of designers and illustrators!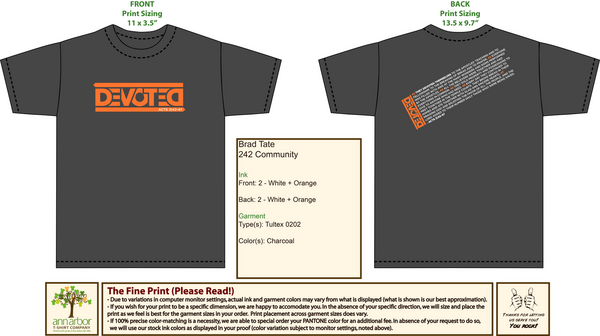 This is what a proof from Ann Arbor Tees looks like - you get to see exactly what your shirt looks like before we print it!
But we didn't stop there.
242 knows their stuff when it comes to t-shirts and they didn't want to settle for any old screen printing ink. They requested a special additive, called Softee. We put it in the ink to make it thinner and softer when printed on the shirt. This makes the print more comfortable to wear. We were happy to accommodate and worked with 242 to make the shirts look and feel like they wanted, Softee and all!
Oh, and one more thing! 242 needed these shirts for an event...the next week. Impossible to do, right?
Wrong! With our lightning fast turnaround time, 242 did not have to sacrifice a quality print and experience just to make sure they got their tees on time. One week turnaround is standard for most orders!
Here's what 242 thought of their Ann Arbor Tees experience
Lead Pastor Dave Dummitt speaking about 242's Devoted initiative while wearing his Devoted shirt printed by Ann Arbor Tees!

The ordering process could not have been any easier! The salesperson communicated quickly and efficiently, and the turnaround time was unbelievable.
Brad Tate - Executive Pastor of Teaching & Arts (at the time of the order)
Glad we could help, 242!
If you have any questions about how to get some super cool shirts for your church (or any other group) contact us here! One of our awesome team members will get back to you ASAP and answer any questions you may have.
Request Pricing
---
Tags: #church, #testimonial